Okay.
Yesterday, I went and tried on a couple more wedding dresses. With the idea that I wasn't going to just randomly try stuff on, I tried on two silhouettes I'd previously thought were my favorites, decided I wasn't really much of a fan, and left.
This doesn't sound like a successful outing, but in fact, it was exactly what I needed.
Since the beginning, I've had this dress stuck in my head;
Specifically, I LOVE the color, I liked the pickups in the skirt, and the fact that it's got a corset top. I don't like the bodice shown in the picture, but basically, this is the overall look I've had in my head.
Lately, I've been getting more of this vibe;
I like that the more simple skirt, but dislike the crossed/ruched bust detail.
I had originally looked at a couple of halter patterns, specifically these ones;
I still love them from the bustline down, but the simple fact is that halter style dresses aren't flattering on me.
Again, part of my choice rests with what color I decide to go with, and also whether I've made up my mind about lace or no lace.
I've finally settled on gold. Just gold. All gold, all the time. Because as
Marjie
said, I've written about it over and over; why am I second-guessing myself?
Plans for the Small Dress are complete. It will be beaded lace over a gold stretch satin, and will be the
same dress you've already seen
, although I will likely either add sleeves, or make a small lace shrug to go over top.
The Big Dress will be one of two silhouettes.
It will either be shaped like this;
(Image from Google Images)
or like this: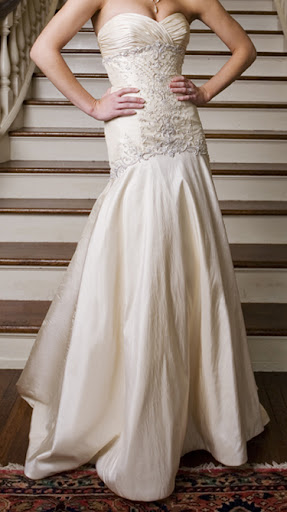 (Image from Google Images)
Whichever silhouette I land on, I think I might have the fabric for the dress in my stash already!
The first dress, the ball gown, might be made with two layers of fabric; an ivory crinkle burnout chiffon over a light, shimmery gold chiffon. The top picture is a little dark; the bottom picture shows the two fabrics layered, and is pretty much what I see in real life.
For the second dress, the fit-and-flare, I'm not sure whether this same fabric would work. If not, I still have about 12 yards of off-white crinkle taffeta. I'm going to cut a few swatches and attempt to tea-stain it into a dark ivory color. If that doesn't work, I'll just use it as it is, and bead the heck out of it until it turns gold. :)
Either way, at least I'm only making two muslins now, not ten. I've come a long way in two days. Thank goodness. And thank YOU, for your comments!
Labels: wedding dress